Non-Intrusive Archaeological Investigation of Fort Massey Cemetery
Halifax, Nova Scotia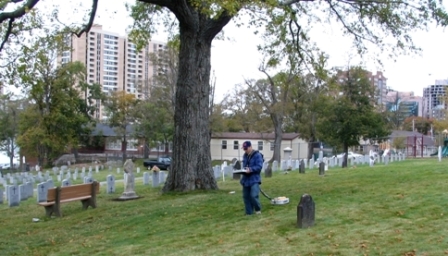 In the summer of 2004, the Heritage Conservation Directorate of Public Works and Government Services Canada (PWGSC) retained Cultural Resource Management (CRM) Group Ltd to undertake non-destructive archaeological investigations within FortMasseyCemetery, a historic military cemetery managed by Veteran Affairs Canada. The Historic Conservation Directorate had worked with Veteran Affairs in the preparation of a comprehensive conservation plan for the management of the cemetery with special emphasis on the protection of grave markers. An important component of the plan was the planting of more trees as per the historical record. However, these records indicated many burials which were no longer identified by above-ground markers. To ensure that new plantings not be installed over unmarked graves, both to support the dignity of those buried, and as a health and safety issue, Veteran Affairs Canada arranged for non-intrusive archaeological investigations in advance of any planting at the site and to modify the planting scheme in accordance with the findings.
CRM Group's role was to coordinate the project and integrate the archaeological data with the historical documentation and interpretation previously prepared for the site. The goal was to generate a site plan integrating historical and archaeological data which would then serve as a guide to future interventions. The review of historic plans helped to identify non-burial features that might be identified in the non-intrusive assessment. Due to specific conditions expected at the site and the reliability of the technology, it was determined that ground penetrating radar (GPR) was the best solution for identifying and detailing early, unmarked burials and interments and other historic features. CRM Group subcontracted The Archaeologists Inc, (Toronto) to undertake the GPR component of the project.
Following the GPR survey, the processed data resulted in a two-dimensional map illustrating the location of interments within the surveyed landscape. Despite some aberrations (due to slope, and 'noise' consistent with tree roots, soil aggregate, and hard landscape features) the survey identified a minimum of 733 anomalies which have been interpreted as unmarked interments, including a few children's graves.
The non-destructive archaeological investigations have confirmed that there is no unoccupied burial space left within the cemetery. Beyond this, interpretation of the GPR data has enabled the team to identify limited spaces between burials which could be used for tree planting.