Archaeological Mitigation at the Maritime Museum Combined Sewer Overflow (CSO) Chamber
Halifax Regional Municipality, Nova Scotia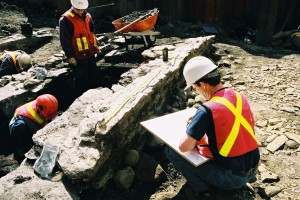 Archaeological potential modelling of the Halifax waterfront undertaken for Dexter Harbour Solutions indicated that the location of the proposed Maritime Museum CSO exhibited a high degree of archaeological sensitivity. The sensitivity was based on the site's location on the original shoreline of Halifax Harbour, within the historic core of the mid-eighteenth century settlement. Examination of eighteenth and nineteenth century maps of the shoreline demonstrated continued occupation and expansion of the site area beginning in the mid-eighteenth century.
Since the footprint of the CSO overlay a portion of Lower Water Street and the adjacent sidewalk, it was impossible to assess the site prior to the start of construction. Consequently, the assessment was incorporated into the excavation associated with the installation of sheet piling around the perimeter of the construction site.
Initial examination of trench profiles revealed the remains of various masonry structures, as well as massive wooden beams associated with early wharves and shoreline expansion. Mitigative excavation enabled CRM Group archaeologists to peal back multiple layers of urban development, demonstrating the site's historic role in maritime commerce.
The high visibility of the excavation generated a great deal of public interest and media attention in the archaeology of Halifax, as well as the Halifax Harbour Solutions Project.